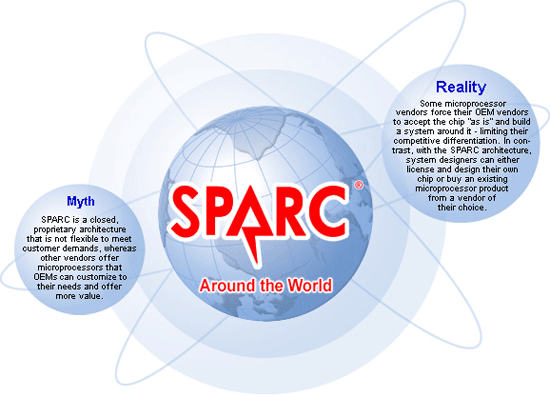 ---
What is SPARC?
SPARC (acronym for Scalable Processor ARChitecture) is an open set of technical specifications that any individual or entity can license and use to develop microprocessors and other semiconductor devices based on published industry standards.

SPARC was invented in the labs of Sun Microsystems Inc. (now part of Oracle Corporation), based upon pioneering research into Reduced Instruction Set Computing (RISC) at the University of California at Berkeley. The first standard product based on the SPARC architecture was produced by Sun and Fujitsu in 1986; Sun followed in 1987 with its first workstation based on a SPARC processor.

In 1989, Sun transferred ownership of the SPARC specifications to SPARC International, Inc. ("SI"), an independent, not-for-profit organization that administers and licenses the technology.

As an open architecture, the SPARC specifications have been refreshed with advanced technologies, the most recent of which is SPARC V9. All versions of the architecture are available for download here.
What makes SPARC "open"?
While many proprietary architectures claim to be open, the truth is that adopters of a proprietary chip must accept the architecture "as is." Conversely, the SPARC architecture fulfills essential elements of openness.

The SPARC instruction set is published as IEEE Standard 1754-1994.

SPARC specifications are available for licensing by any individual or entity, giving licensees flexibility and freedom to design their own solution. To obtain a license, please contact us at info@sparc.org

Control of the SPARC architecture is administered and licensed by SPARC International, Inc. ("SI"). Membership is open to everyone. Click here to apply for membership.
How much does it cost to use the SPARC architecture?
All technical information about the SPARC architecture is available for free and without royalties here. Anyone is welcome to download the SPARC specifications, which provide all the technical requirements to design processors and other products based on the open SPARC standard.

While the technical information is free, use of the SPARC trademark requires two things: (1) membership in SI; and (2) successful completion of the SPARC compliance test. To apply for membership, please click here.


We also offer registry services for a one-time fee of $99, which is particularly important to those companies that track the source of technology in their products. For more information, please contact us at info@sparc.org.
What are the benefits of open architecture?
Open architectures like SPARC expose the instruction set to a vast community. All classes of users have fair and equal access to the technical underpinnings of the architecture. As a result, innovation and advancement are greatly enhanced. This is in marked contrast to proprietary architectures whose instruction sets cannot be licensed.
What are the benefits of the SPARC open architecture?
The SPARC architecture has four key benefits in addition to the overarching benefit of openness.

The SPARC architecture is scalable, both in price and function. Devices based on the SPARC architecture have proven performance and rank among the fastest and most powerful in the world.

The SPARC architecture guarantees compatibility from generation to generation of the architecture, as well as across the full range of products based on SPARC implementations. For example, applications running on any previous generation SPARC/Solaris-based server, going back to products released in 1987, will run with enhanced performance on the newest systems.

The SPARC developer community has more than two million members, offering over 30,000 applications, which ranks us among the largest in the world.
How does SPARC compare to other architectures?
Customers who adopt proprietary architectures can build systems around the chips, but cannot build their own versions of the chip. This drawback prevents OEMs from differentiating their products architecturally, and precludes them from optimizing the architecture for specific applications.

SPARC licensees, on the other hand, have full access to the core instruction set, allowing them to create their own version of the chip. They are able to add their own features and extend the capabilities of the architecture, while assuring compliance and compatibility – after successfully testing – with the SPARC standard.
How has SPARC been deployed?
The SPARC architecture powers a variety of commercial, technical, aerospace and military applications and can be found in data center servers, super computers, desktop and portable workstations, digital cameras, network switches, set-top television cable boxes, and digital storage devices.
Who is SPARC International?
SPARC International, Inc. ("SI") is an independent, not-for-profit organization. It was founded in 1989 to oversee and guide the SPARC evolution and is funded primarily by its loyal members who continue to demonstrate steadfast support of the SPARC architecture and its Open Standards technology. SI administers the SPARC instruction set licenses, oversees and protects its global brand, and provides compliance testing and other services to licensees for a fee.
What are the benefits of becoming a member?
All members benefit in several ways, including:

Links within SI's web site to your home or product pages, affording you greater exposure and market visibility.
Royalty-free use of the SI Membership and SPARC logos.
Public acknowledgment to your customers that you believe in and support the importance of SPARC's open standard architecture.
Associate Members also receive technical assistance and access to SPARC's test suites.
Executive Members additionally receive a seat on SI's Board of Directors.
What are the membership categories and cost to join?
SPARC International offers four types of membership:

Executive Membership

Attracts companies that have a strategic interest in the SPARC architecture. Executive members hold seats on the Board of Directors and the Architecture Committee, and are eligible to vote on changes to SPARC International specifications. Annual dues are $150,000. Apply for Membership

Associate Membership

Open to original manufacturers of hardware and software systems. Associate members elect two representatives to the Board of Directors. Annual dues are $20,000. Apply for Membership

ISV/IHV/VAR/OEM

Membership is for companies interested in promoting the continued growth of the architecture. Annual dues are $1,500. Apply for Membership

Academic Membership

For colleges and universities that do not supply products or services. Annual dues are $100. Apply for Membership